The Work Itself
The "Workout Video" assignment requires the creation of a fitness montage. The instructions are vague in order to give the individual free range to make whatever kind of video they desire. I pride myself on my dedication to staying fit through exercise, so this assignment seemed perfect for me. I mostly run and do body weight exercises, however I also do fitness boxing/kickboxing. Out of these 3 options, boxing seemed like the most exciting one to record. I added the video twice, because Vimeo is having some technical difficulties right now.
The Story Behind the Story
Throughout high school, I was very active in the sports community. I was technically a triathlete, if you count indoor and outdoor track as "separate" sports. During Fall, I played volleyball for the school and, starting in December, I would participate on a travel team through May. During Winter and Spring, I was on the track team. I was also manager of the gymnastics team, so I got to do extra stretching and conditioning, but none of the acrobatic stuff. I tried it once when I was younger and it didn't stick with me, so I tried something new. 
Source: Free Images
Every day of the week, I had some sort of practice to attend. Some days, I had two different practices. My body constantly hurt, but I knew I was only getting better and stronger. Ice was my best friend for awhile. 
Source: Free Images
Eventually, my body didn't want to run track anymore, so my senior year I explored new options. Near my local grocery store, there was a boxing gym I always wanted to try. I took a free fitness boxing class and fell in love. Each class starts with cardio, then it transitions to 8, 3 minute rounds on a heavy bag, and finally ends with core. As I got more comfortable at the gym, I began to do 1 on 1 training, where I hit mitts with a trainer. This was by far my favorite part, because I got to focus on my form and strength. In addition, my confidence began to grow.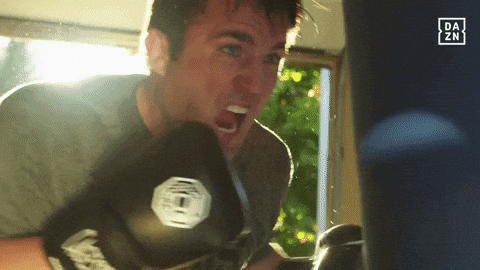 Source: Giphy
When high school ended, I wondered how I would be able to keep up with my fitness lifestyle. I loved my sports and I wasn't a huge traditional gym goer. Luckily, I found club volleyball and immediately felt welcomed onto the team. Through volleyball, I met people who introduced me to club basketball. I had very little background with the sport, but I enjoyed shooting baskets, so I was willing to show up and do drills. It was a lot of fun because no one was too serious. In addition, my teammates introduced me to intramural sports. My friend circle kept expanding as I joined more teams. It felt amazing to be part of that friendly team atmosphere again. I was so worried I was past it all after high school sports ended. 
Source: Giphy
Despite my new found friends and teammates, I missed boxing. Every time I found myself back in my hometown, I was back at the gym. Nothing makes me sweat more and feel better about myself then wrapping my hands up, putting gloves on, and throwing some punches. 
Source: Giphy
My biggest fear coming to college was how to stay active. Not only did I stay active, but my activities lead to lasting friendships. I had formed bonds with people who shared my interests and had mutual friends. I got to find new passions, while maintaining my old ones as well. 
Narrating the Process
As I stated in my previous project, "Beneath Your Beautiful," I wanted to simplify the video-making process and use only one application. I decided to make this video directly in Vimeo. I selected "start from scratch."
For style, I selected "none."
Vimeo imports videos and breaks them into small clips. So, I had to "trim" the clips in order to show what I wanted. I also had to delete a lot of the clips to keep my video at 30 seconds. For the title screen, I used "media scene" to add the boxing gloves picture. Then, I used "layout" to adjust the picture to text ratio. For the credit screen, I used "text scene."
Finally, I animated the text with "text sticker."